Imagine….bright sunshine, beautiful clear skies, sea colors with incredible contrasts of green and blue, perfect temperatures all year round.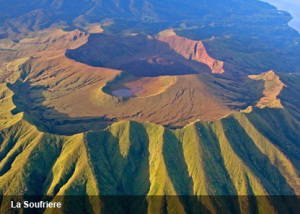 Once here, you'll experience first hand, tranquil valleys and clear refreshing streams flanked by majestic mountain peaks; superb soft black and white sand beaches; an incredible abundance of lush vegetation, tropical fruits and singing exotic birds; a lively exciting culture; historical sights; fantastic yachting; incredible scuba diving; breathtaking views; excellent cuisine; and of course our friendly and hospitable people. These and much more represent St. Vincent & The Grenadines – where warm breezes blow!
St. Vincent & The Grenadines make up part of the Windward Islands and lie just south of St. Lucia and 90 miles west of Barbados. St. Vincent, like all of the Windward Islands is volcanic and mountainous with luxurious vegetation and black sand beaches. The Grenadines are equally beautiful and lush with white powdery sand beaches. Let Mustique Airways private charter and Grenadine Tours shared charter services, bring you home to our exciting, warm, friendly and soothing, Eastern Caribbean ambience. We're made for romance too!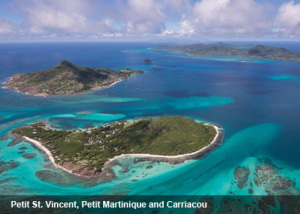 St. Vincent: With a history dating back to 1765, St. Vincent is our biggest island with rugged mountainous terrain, lush forest, valleys and waterfalls, and many beautiful uncluttered beaches and inlets, ( 21 miles long and 11 miles wide). This is one of the most most fertile of Caribbean islands, providing it's inhabitants with exotic fruits, vegetables and spices. It is also home to the oldest Botanical Gardens (20 acres) in the Western Hemisphere. These Gardens include a breadfruit tree descended from the original brought to the island in 1765 by Captain Bligh from Tahiti. The Soufriere volcano which is located in the north of the island, is a wonderful attraction for any energetic and adventurous traveler, offering a sensational birds-eye view of the crater, the Grenadine islands and all of St. Vincent. On the islands southwest coast, lies Kingstown the small, but bustling capital with a beautiful natural harbor. It is a market town which has a variety of small and interesting shops. From here the island's two highways wind their way north along scenic coastlines, offering spectacular views of most of the island's great beaches. There is much to see and do, and St. Vincent is one of the few islands where you will thoroughly enjoy great West Indian Cuisine.